New World Scheduler allows appointed brothers to quickly and easily schedule all congregation Duties, such as Attendants, Security, Sound, Video, Microphones, Platform or a Custom Duty.
You can schedule as many or as few of these JW duties as you want, depending on your local circumstances.
To schedule Congregation Duties, click Schedule > Duties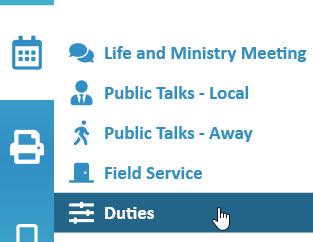 All Duties can be customised for your local circumstances.
Duties are given a default English name, but can be changed to anything in any language. The new duty names will appear on all schedules and in the App.
If you have enabled Congregation Sharing, the customized duty names will be shared among all Shared Persons.
If you do not want to use a certain Custom Duty, simply erase the name and don't schedule anyone for that duty. It will not display on the schedule.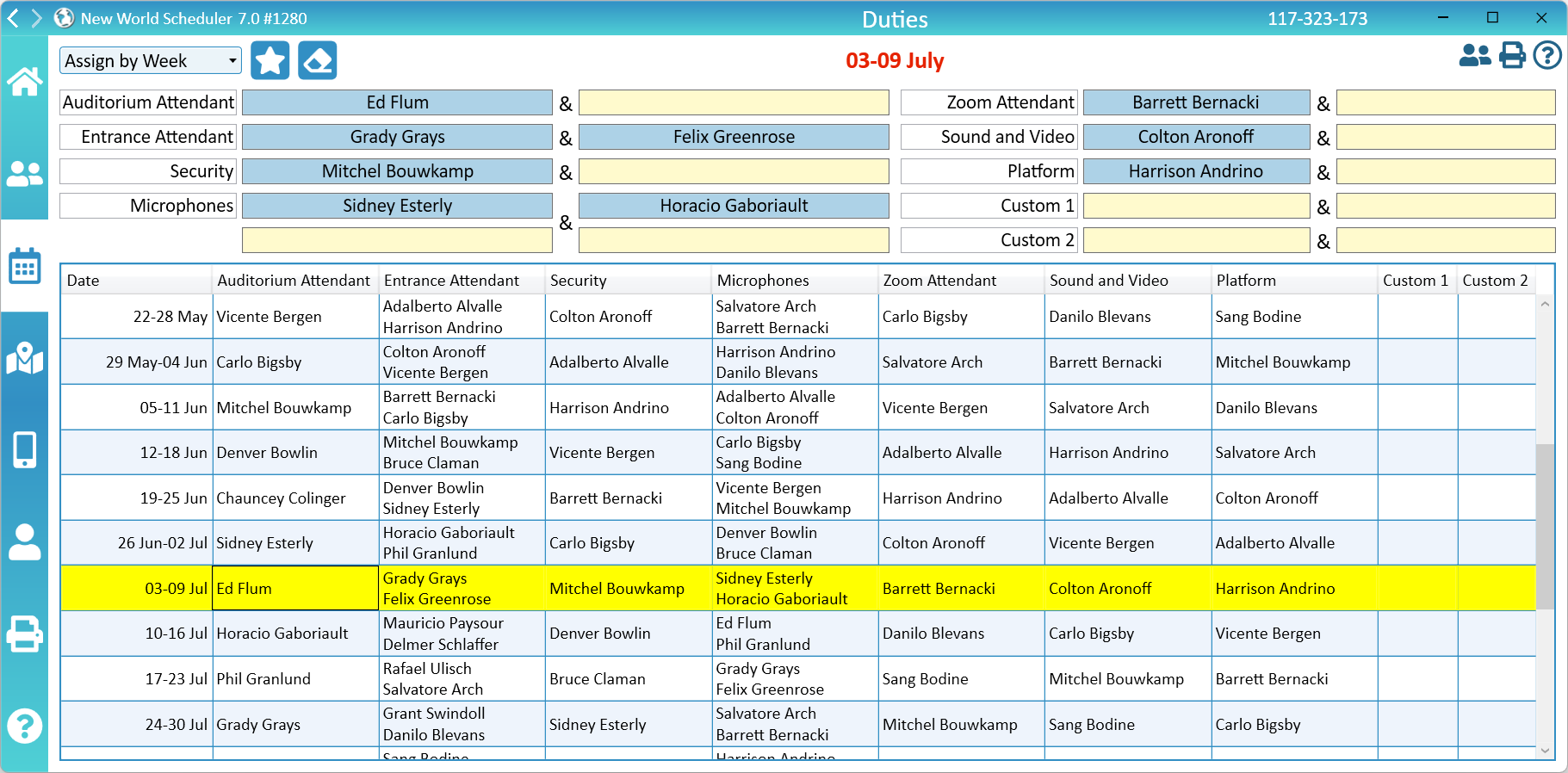 Schedule Congregation Duties
Note: To set a week as Circuit Overseer, Circuit Assembly or any other Special Event, please see Congregation Events and Announcements
Note: If you do not want to use certain Duties, erase the Duty name and do not schedule anyone for that Duty. It will then not display on schedules.
Note: Duties can be scheduled up to 3 months in advance.
Select Schedule > Duties
Determine whether JW duties will be Assigned by Week or Meeting, and then select either Assign by Week or Assign by Meeting.

Note: This will be saved for your congregation, and should only be set once. Please do not keep changing between the two, or you will see unexpected results.

Select the Week or Meeting you wish to Schedule.
Click the Duty you wish to schedule

Note: Some duties allow you to schedule multiple people, E.G. Attendant allows you to schedule 2 persons, and Microphones allows you to schedule 4. You should always start from 1.

Select the persons to perform that duty

Note: Only Active persons who are not Away and have the correct Assign value will show in this list. Please see Help > Persons for more information.
Note: If the person has another Duty, Assignment or CLM assignment that day, a warning symbol will appear.

Click OK
Auto-Assign is a feature in New World Scheduler that allows elders or another appointed brother to automatically assign all Congregations Duties for several weeks.
This can save much time and ensure persons are evenly scheduled. However this must be used with discretion. Please see New World Scheduler Auto-Assign for more information about how Auto-Assign works, and how to best use Auto-Assign.
Click Schedule > Duties
Select the Week
Click Auto-Assign

Tick

the Duties you wish to Auto-Assign
Select how many weeks to auto-assign

Optionally

, tick Check for Existing Assignment

Note: This will not auto-assign anyone who has an assignment that meeting

Click Auto-Assign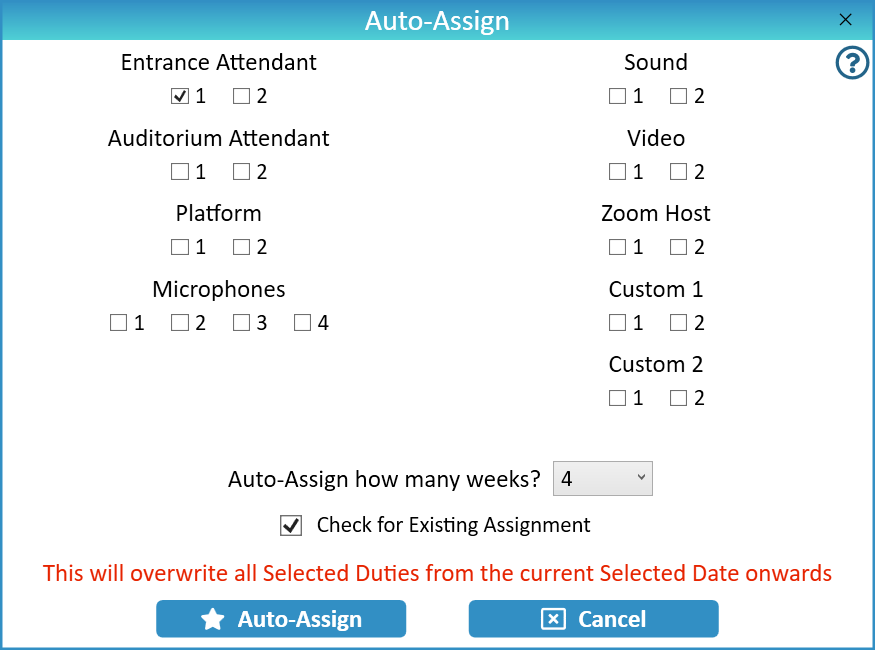 Duty Reminders and Notifications
The following Quick Steps are available:
Send Congregation Duties Schedule to those with Duties
Send Congregation Duties Reminders
Common Questions and Problems