New World Scheduler can quickly and easily schedule all Congregation Duties scheduler.
The NW Scheduler Duty Schedule is very flexible, and all Duties are fully customizable.
For example, most congregations might have the following duties: Auditorium Attendance, Entrance Attendants, Security, Zoom Attendant, Sound and Video, Microphones and Platform.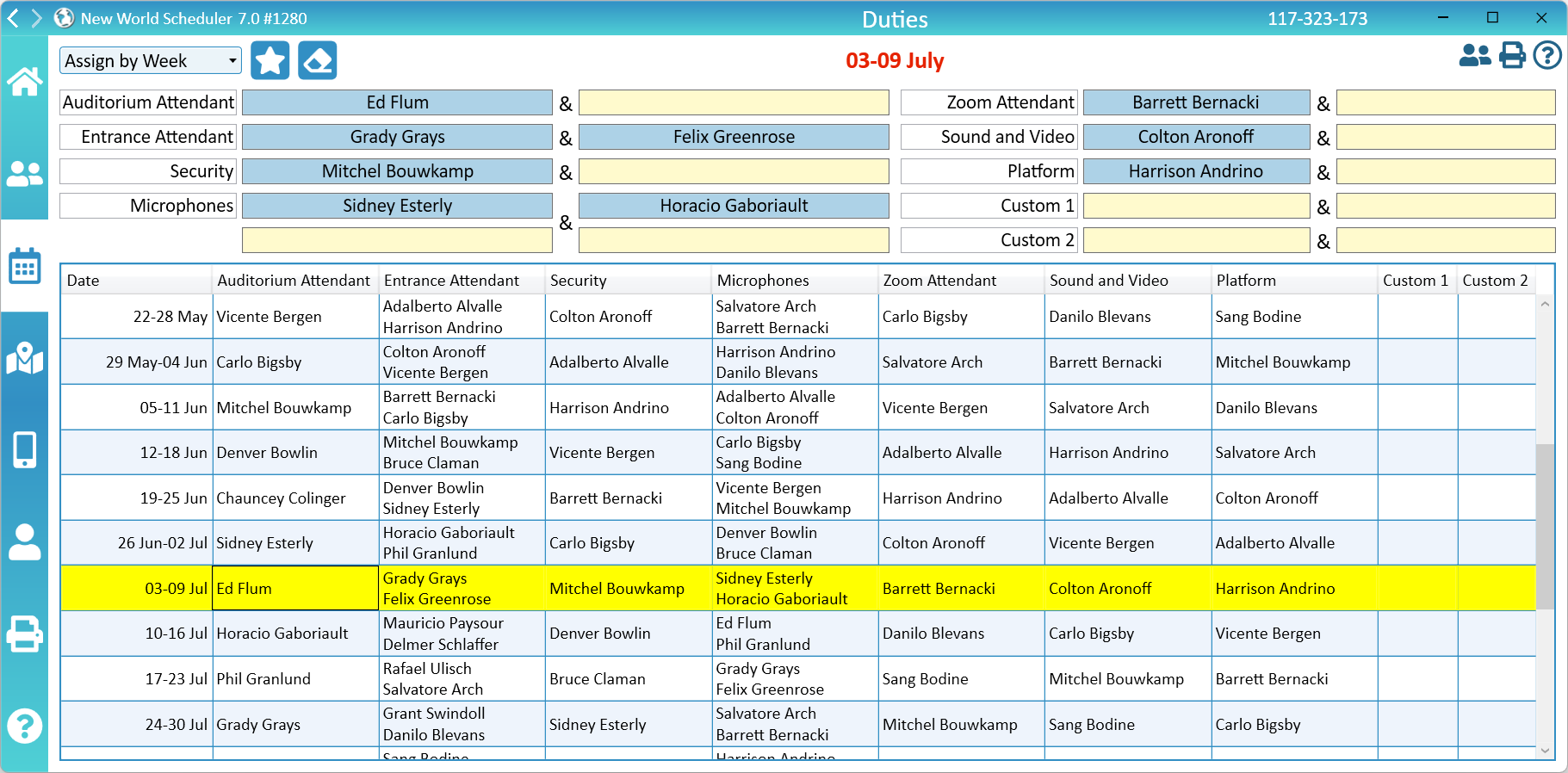 New World Scheduler allows selected Duties to be Auto-Assigned. This will automatically schedule the duties, ensuring all available brothers are evenly used and the duties do not conflict with one another.
For example, the Public Speaker or Watchtower Reader will never be assigned a duty for that Weekend Meeting.
You can choose to use Auto-Assign with some or all duties, and over any period of time.
Since every congregation is slightly different, New World Scheduler allows you to schedule duties either on a Per Week or a Per Meeting basis.
Per Week makes scheduling easier, and allows the brother to be slightly more familiar with a duty.
Per Meeting allows for a faster rotation and more variety.
New World Scheduler produces several practical Duties schedules and reports, which can be emailed, printed, or saved as either Document or PDF.
Duties Schedule
The Duties Schedule can be printed and placed on the congregation Information Board. This shows all duties which have been assigned.
The Duties Schedule has the option to include extra duties like Security, Custom Duty and Kingdom Hall Cleaning.
Assignments by Member
This report contains a comprehensive list of all Members in the congregation, with a tick next to each Assignment or Duty they are allowed to perform.
This allows the body of elders to quickly and easily determine which duties a particular brother is able to perform, and whether any adjustments are necessary.
Duties Members List
This report shows which members can perform each duty, and how many available members each duty has.
This allows the body of elders to quickly and easily determine which brothers should handle which duties, and how often they will be rotated.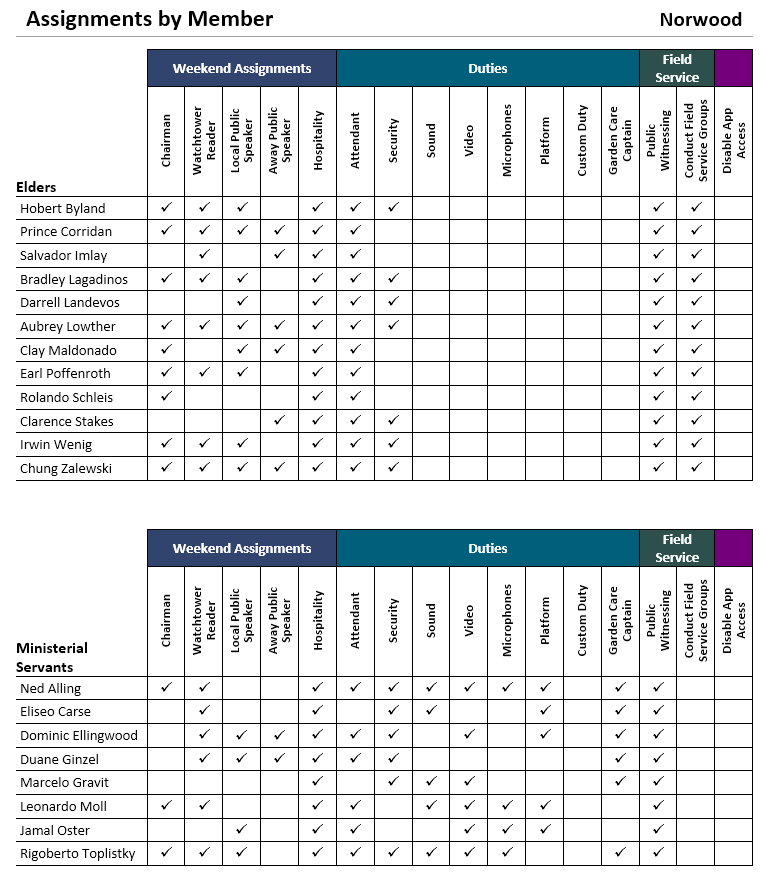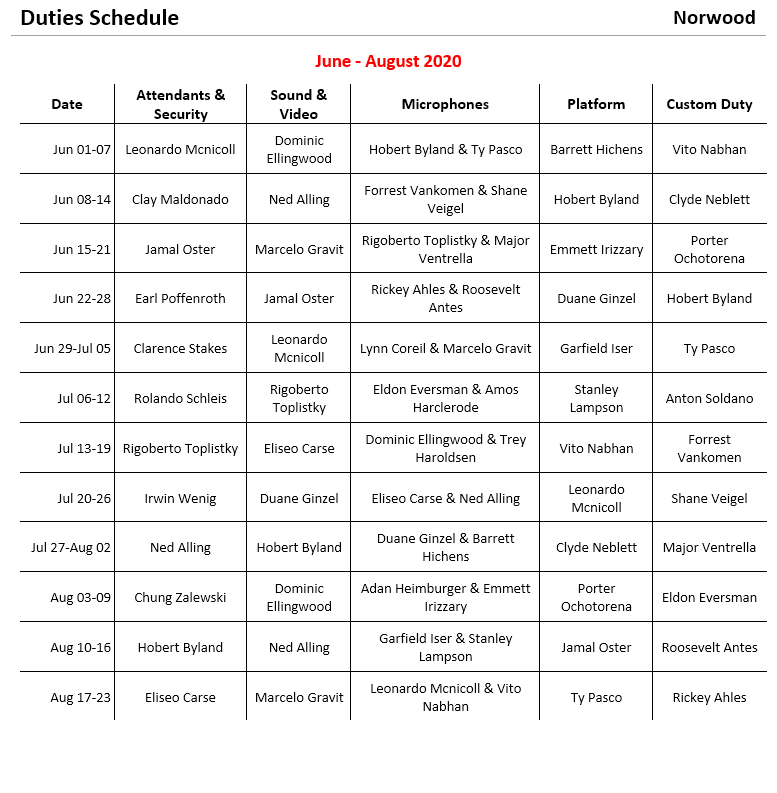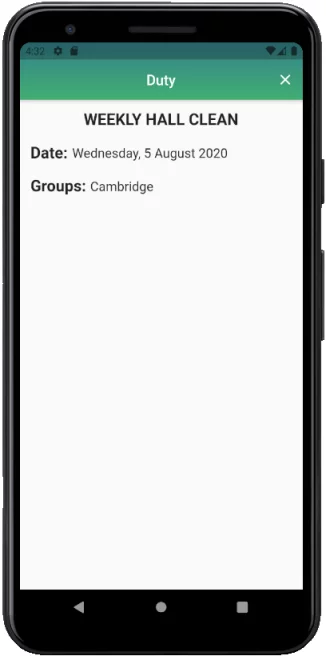 It is convenient for all appointed brothers to know which brothers are able to handle which assignments and duties, as well as see the Duties Schedule.
New World Scheduler can automatically synchronize and share all member and duties data between appointed brothers, allowing everyone to keep up-to-date with congregation duties.
All upcoming Duties can be seen by members using the New World Scheduler – Publisher Edition App (for iOS & Android).
Members will receive a notification when they receive a new congregation duty, and can set both Initial and Final reminders.
The New World Scheduler Duties scheduler is a helpful tool to help brothers schedule all congregation duties, including other Attendants, Security, Sound, Video, Microphones, Platform and custom duties. By using New World Scheduler, brothers can save considerable time scheduling, ensure duties are evenly and appropriately assigned, and allow all brothers to conveniently access and see upcoming duties!
New World Scheduler Advantages