Schedule Public Talks quickly and easily with New World Scheduler, and then send upcoming Public Talk assignments to all brothers using the NW Publisher app.
The congregation Public Talk Coordinator can quickly and easily schedule both incoming and outgoing public speakers, as well as other parts of the weekend meeting, such as Chairman, Watchtower Reader and Public Speaker Hospitality.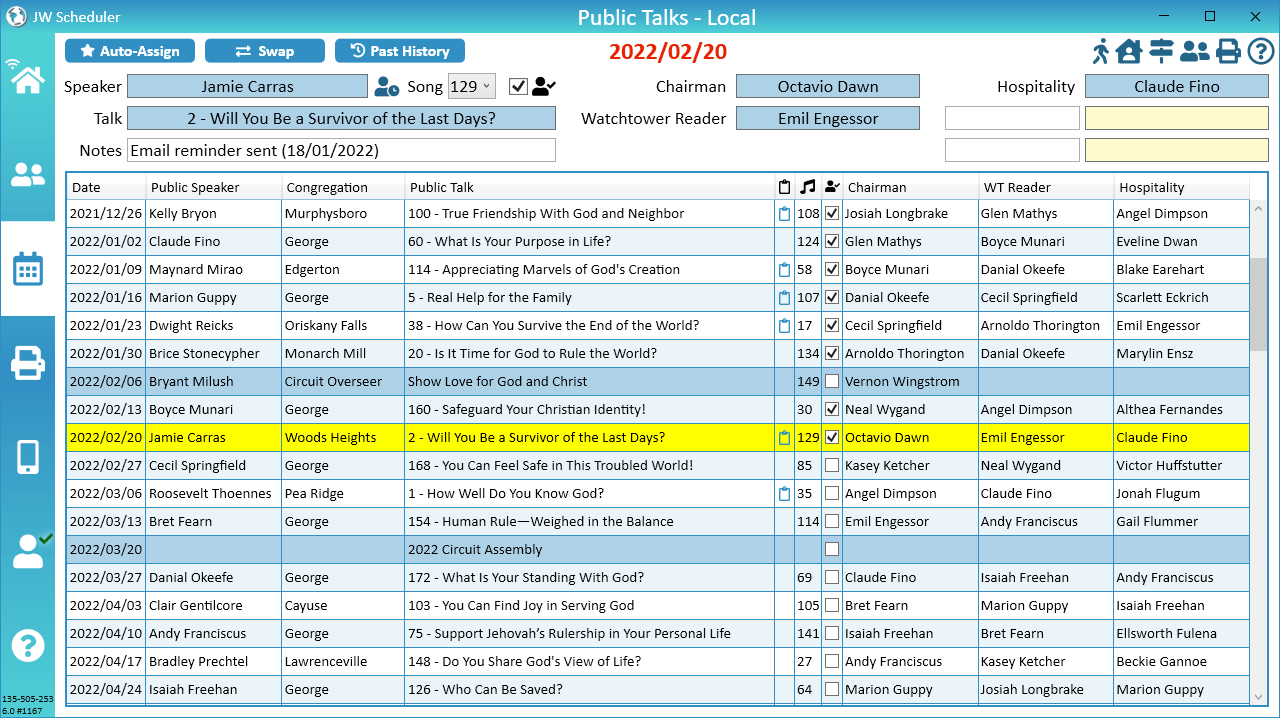 Local Public Talks can be scheduled using Local speakers, Visiting speakers or special speakers. Local speakers have a detailed history, to ensure they are evenly selected.
Neighboring Congregations and visiting Public Speakers can be imported or added to New World Scheduler, allowing you to easily choose the more appropriate incoming speaker.
When selecting a Visiting speaker, New World Scheduler will automatically recommend which Outline he should give, based on which Outlines the speaker can give and which outlines your congregation has not recently heard.
New World Scheduler allows you to easily track which Public Speakers are giving Away talks, which outlines they are giving and when. This ensures approved Away Speakers are evenly assigned and don't travel too often.
Neighboring Congregations can be added to New World Scheduler and include meeting day and time, Kingdom Hall address, Public Talk Contact and more. This helps your local elders know where they should be going, when and who to contact.
New World Scheduler produces several beautiful and practical Public Talk schedules, templates and reports, which can be emailed, printed, or saved as either Document or PDF. These schedules and assignments can also be viewed in the NW Publisher app.
Local Public Talk Schedule
The Local Public Talk Schedule can be printed and placed on the congregation noticeboard. This shows all the Local public talks, public speakers, congregations, as well as the Chairman, Watchtower Reader and Public Speaker Hospitality. Designed to be simple and easy-to-read.
Away Public Talk Schedule
This report gives an overview of which speakers are assigned to which congregations to give Away Public Talks. It is useful when assigning Away Talks to ensure talks are evenly assigned, or no one speaker is giving too many Away Public Talks.
Public Talk Assignments
Print or distribute the Public Talk Assignments to each Local and Away Public Speaker. They are given a complete list of all upcoming public talks, including the Date, Outline and Congregation. The report is appealing and easy to understand.
Away Public Speakers List
Give this report to other Public Talk Coordinators. It contains a full list of all Public Speakers who have been approved to give Away Public Talks, including which Public Talk Outlines they give.
Congregation Public Talk History
Based off the S-99 form, the Congregation Public Talk History shows a complete history of all public talks and when they were given in the Congregation. The history goes back 5 years and forward 1 year. Use this report to ensure you don't repeat Public Talks too often.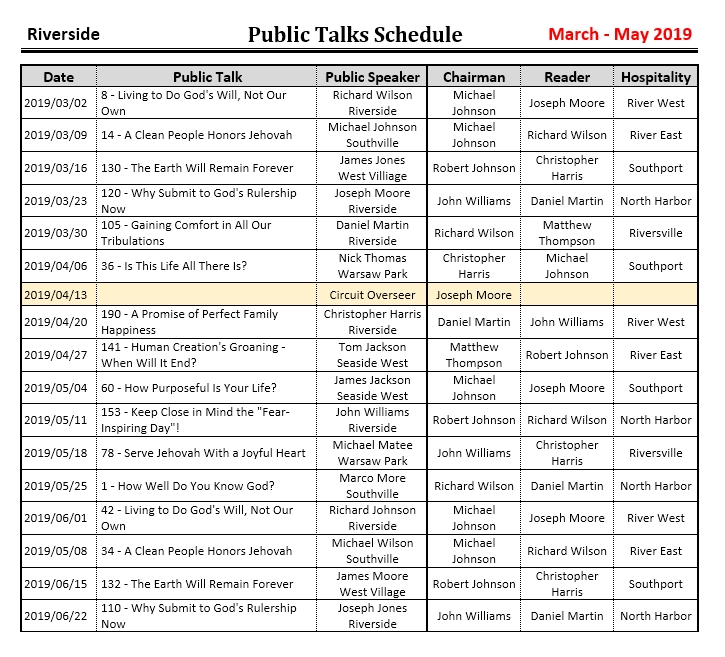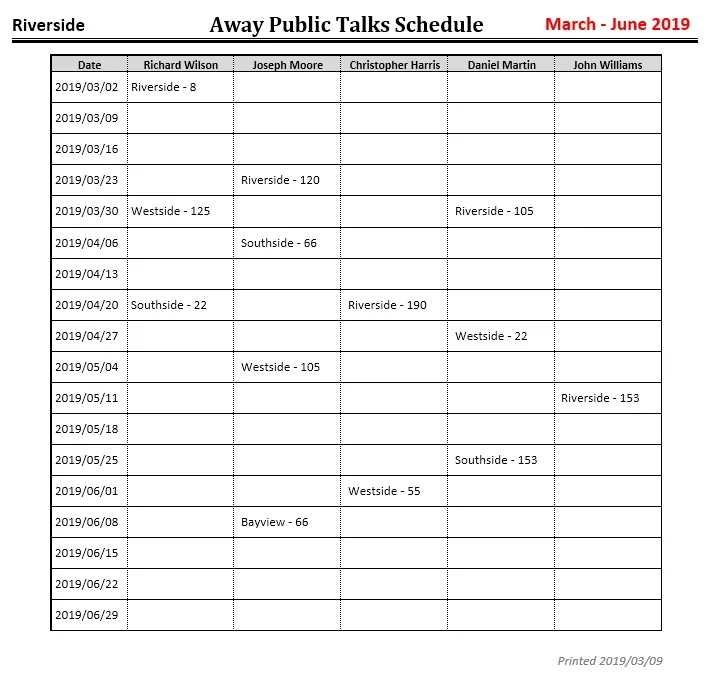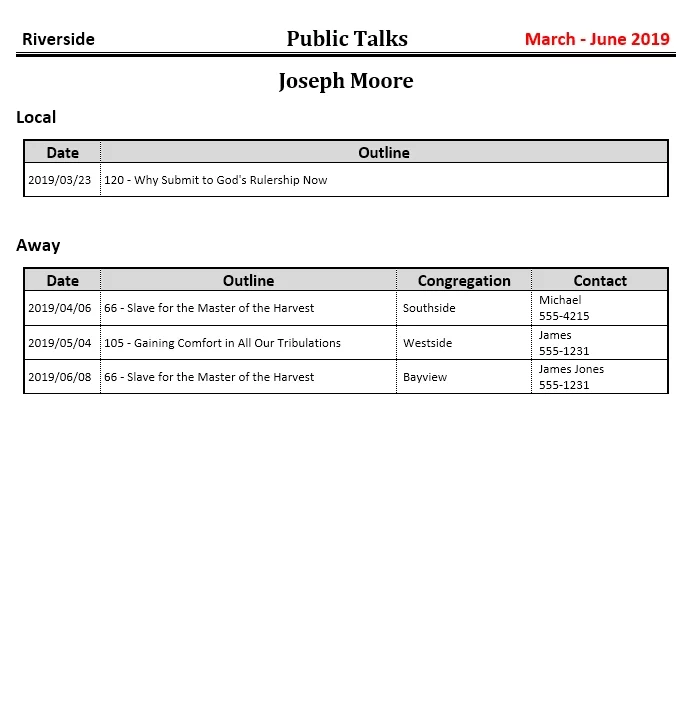 All elders need to know about upcoming Local and Away talks. New World Scheduler can automatically synchronize and share all public talk data between appointed brothers, allowing everyone to keep up-to-date with congregation Public Talks.
All Local and Away Public Talk assignments, as well as Weekend Meeting assignments, can be seen by brothers using the NW Publisher app (for iOS & Android).
Brothers will receive a notification when they receive a new Public Talk assignment, and can set both Initial and Final reminders. They can also see details about the congregation they are visiting, such as Kingdom Hall address, Date, Time and Public Talk Contact.
The New World Scheduler Public Talk scheduler is an excellent tool to help the Public Talk Coordinator and COBE schedule both Incoming and Outgoing Public Talks, including other Weekend Assignments like Chairman and Watchtower Reader. By using New World Scheduler, brothers can save considerable time, ensure talks are evenly and appropriately assigned, and allow all brothers to conveniently access and see upcoming Public Talk assignments!