Lawn and Garden Care can be quickly and easily scheduled in New World Scheduler.
Our Lawn and Garden Care scheduler allows for 2 Custom Lawn and Garden Care Types. They can be scheduled per Month or per Week.
Lawn and Garden Care can be assigned to Persons, Field Service Groups, Other Groups or Neighboring Congregations.
To schedule Lawn and Garden Care, click Schedule > Garden Care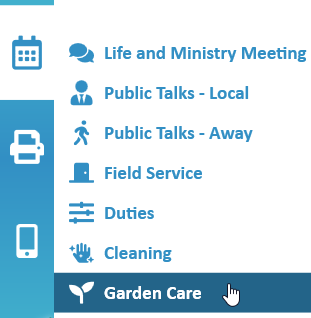 Schedule Congregation Lawn and Garden Care
First select Assign by Week or Assign by Month. This should only be set once.
Enter the Custom Names for Garden Care and Lawn. If a field is not needed, remove the name.
Select the Week or Month you wish to Schedule.
Click the Assign buttons
Select either the Person, Group or Congregation to perform the Lawn or Garden Care
Click OK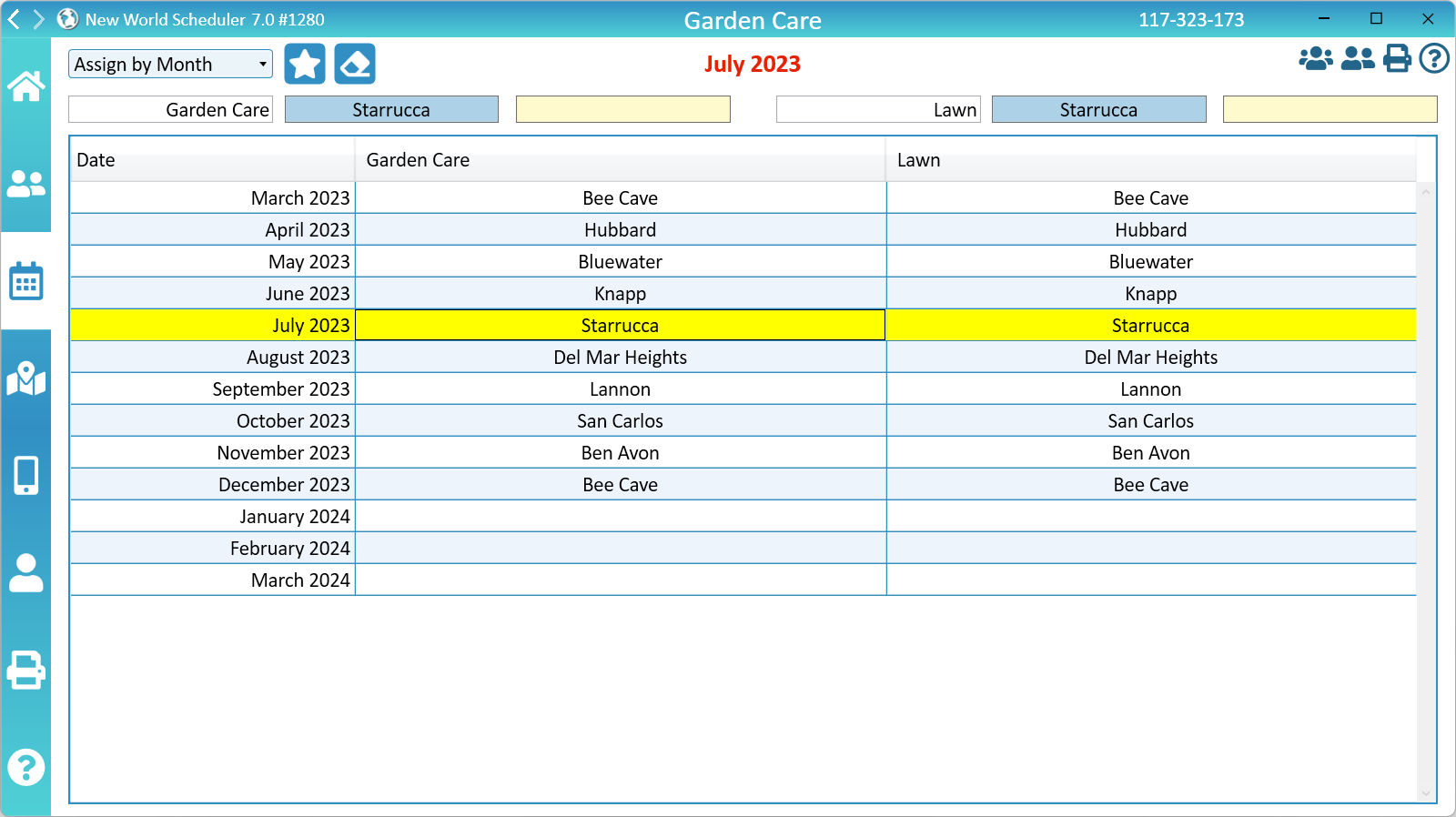 Lawn and Garden Care Reminders and Notifications
The following Quick Steps are available:
Send Cleaning and Garden Care Schedule
Send Congregation Duties Reminders
Auto-Assign Lawn and Garden Care
Auto-Assign is a feature in New World Scheduler that allows elders or another appointed brother to automatically assign Lawn and Garden Care to either a Person, Group or Neighbor Congregation.
This can save much time and ensure duties are evenly scheduled. However Auto-Assign must be used with discretion. Please see New World Scheduler Auto-Assign for more information about how Auto-Assign works, and how to best use Auto-Assign.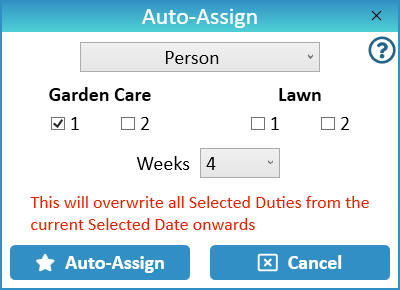 Common Questions and Problems
Yes, you can schedule up to 2 Persons, Field Service Groups, Other Groups or Neighbour Congregations to perform each of the Lawn and Garden Care duties.
If you need to schedule more than 2 persons or groups, you will need to create a customized Other Group, then schedule that Other Group.
This is not possible. It is up to the Person, Group Overseer or Other Group Captain to decide, organise and arrange when to perform the Lawn and Garden care.