Scheduling the Maintenance Tasks, including those assigned by LDC (Local Design Construction) is quick and easy with New World Scheduler.
Tasks can be scheduled per month, or several months, and can be assigned to up to 4 people, groups or congregations.
To schedule Maintenance Tasks, click Schedule > Maintenance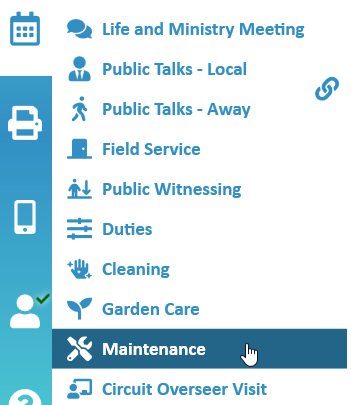 Create Maintenance Task Categories
Click Schedule > Maintenance
Click + to add a Maintenance Task Category
Give the category a name, e.g. BUILDING MAINTENANCE
Create Maintenance (LDC) Tasks
Click Schedule > Maintenance
Select a Maintenance Task Category (or select No Category)
Click New to add a new Maintenance Task in this category
Enter the Maintenance Task name
Optionally, enter the Maintenance Task Description
Schedule Maintenance Tasks (LDC)
Note: If you have enabled the NW Publisher app, Maintenance Tasks will be shown on the app under Duties.
Click Schedule > Maintenance
Select the Maintenance Task Category
Select the Maintenance Task
Select the month to schedule
Click Assign to and assign up to 4 persons, Field Service Groups, Other Groups or Neighbor Congregations
Once the task has been completed, mark the task as Completed.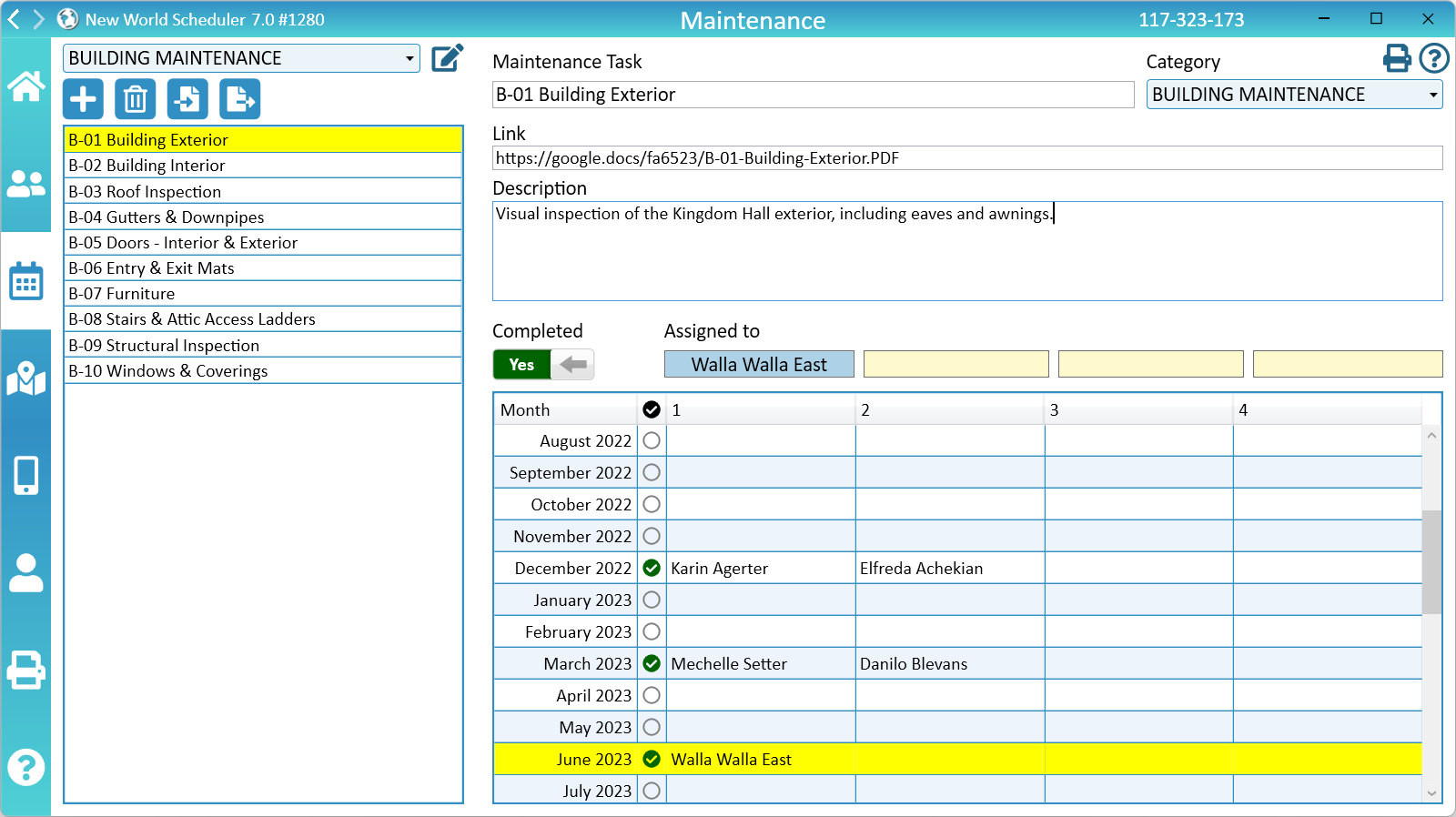 Maintenance Task Reminders and Notifications
The following Quick Steps are available:
Send Maintenance Tasks for This month
Send Maintenance Tasks for Next month
Send Congregation Duties Reminders
Common Questions and Problems
No, due to the seriousness and importance of these tasks, assigned brothers must personally inform the Maintenance Coordinator that a task has been completed.
Only the Maintenance Coordinator or another approved brother has the authority to mark the task as Completed.
This also allows them an opportunity to briefly discuss the task, including discussing any issues found, or for the Maintenance Coordinator to ask questions.
No, NW Scheduler is designed for use by your congregation only.
If neighbour congregations or persons in other congregations are assigned certain tasks, you must manually inform them.