New World Scheduler supports importing Territories from Alba.
We believe your congregation and person data is your own, and you should be able to Import and Export your data as you wish. We also believe that as true Christians, it is both reasonable and right to allow data exchange between other JW scheduling programs.
Alba is a web based territory application designed to help Jehovah's Witnesses manage their congregation's territories and territory addresses. Alba allows brothers to design, create, manage their congregation's territories.
At present, Alba has very limited export functionalities, but we hope they add more in the future.
Alba may also known as Alba Territory or Alba Territories.
Where can you download Alba Territory?
Since Alba is web based, it cannot be downloaded to either a computer or mobile device.
Instead, you must visit the Alba website to login and use Alba territories.
What data can be imported from Alba?
New World Scheduler is able to import the following information from Alba: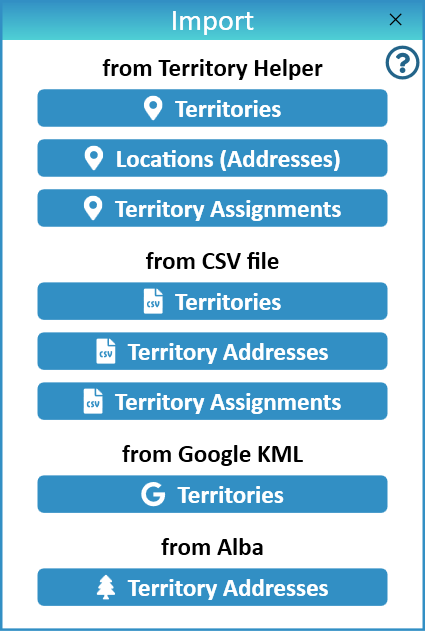 Import Territory Addresses from Alba
Step 1 - Export Territories from Alba
Login to mcmxiv.com/alba/
Export your addresses to CSV
Save the AlbaExport_DATE.csv file somewhere on your computer

E.G. in the Documents folder
Step 2 - Import Territories into NW Scheduler
In NW Scheduler, click Territories
Click Import
Click Territory Addresses from Alba
Locate the CSV file you just exported
Click OK