New World Scheduler includes a Territory Assignment Record organiser where the congregation Service Overseer, map servant or assistant can record and organise the congregation Territory Assignments, including making map assignments to publishers.
New World Scheduler lets the congregation Service Overseer or the Territory Servant Check Out field service maps or territories to other publishers for personal or congregation use.
The Date and Publisher is recorded, and is kept in the Territory Assignment History for printing to the S-13 Territory Assignment Record.
Congregation Territories can be grouped by Area and given any meaningful name or number.
New World Scheduler can display and sort territories by Name, Number, Publisher, Date Out or Last completed.
This helps the Service Overseer or Territory Servant quickly know which territory should be next assigned.
New World Scheduler produces attractive and practical Territory Assignment reports, which can be emailed, printed, or saved as either Document or PDF.
S-13 Territory Assignment Record
The new S-13 Territory Assignment Record form can be printed showing a complete record and history of Congregation Territory worked.
Congregation Territory Summary
Displays a beautiful summary of the Congregation's recent Field Service Activity, including which territories were covered, when, and how much of the congregation's territory was covered in the last 6 and 12 months.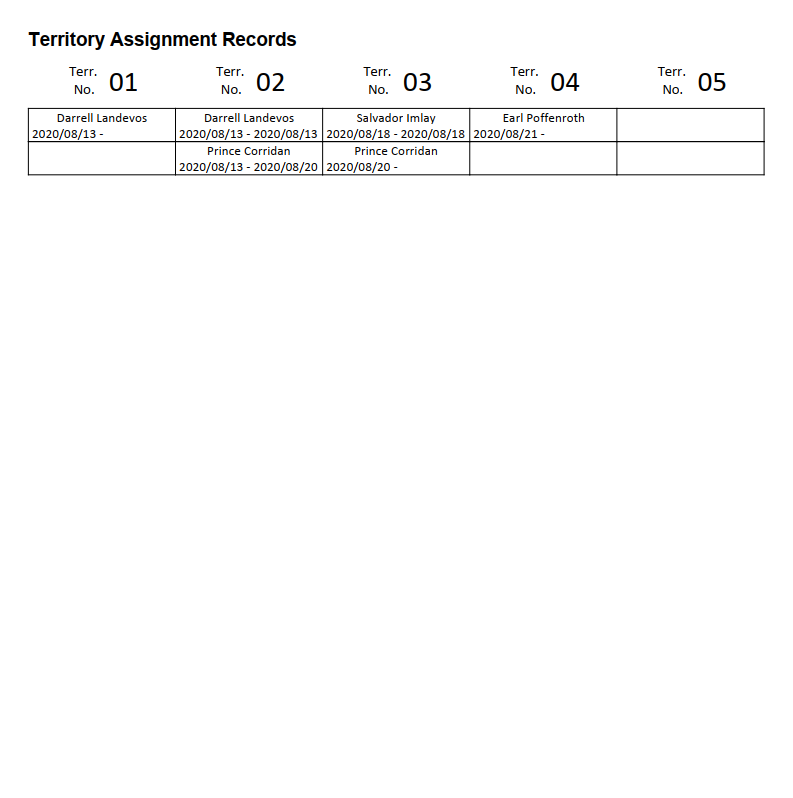 New World Scheduler automatically share and synchronize Territory Assignment Records and assignments with all elders.
This greatly assists all elders to keep up-to-date with Territory Assignments, as well as know who is currently working which maps.
Publishers can see which Territories or Maps have been assigned to them, as well as which Territories or Maps are used for which Field Service Groups.
The New World Scheduler Territory Assignment Records organizer is an excellent tool to help the Service Overseer, his assistant and the Territory Servant organise and arrange the congregation Territory! By using New World Scheduler the Service Overseer and Territory Servant can save time, produce appealing reports, and allow everyone to easily keep up-to-date with what is happening in the Congregation territory!