New World Scheduler contains many attractive, practical and informative Public Talk Schedules and Reports, allowing you to quickly and easily view your congregation data.
All schedules and reports can be saved as Document, PDF, Image or XPS. They can also be Previewed, Printed or Emailed.
To Save, Print or Email Public Talk Schedules Reports, click Printing > Save, Print & Email Reports > Public Talks
The Public Talk Schedule for the selected period, including Public Talk details and Weekend Assignments. The schedule can be printed or saved in a variety of appealing templates.
Include Hospitality includes the Hospitality assignment.
Include Away Speakers includes Away Public Speakers.
Choose from a variety of appealing Templates.
Select the Start and End Period.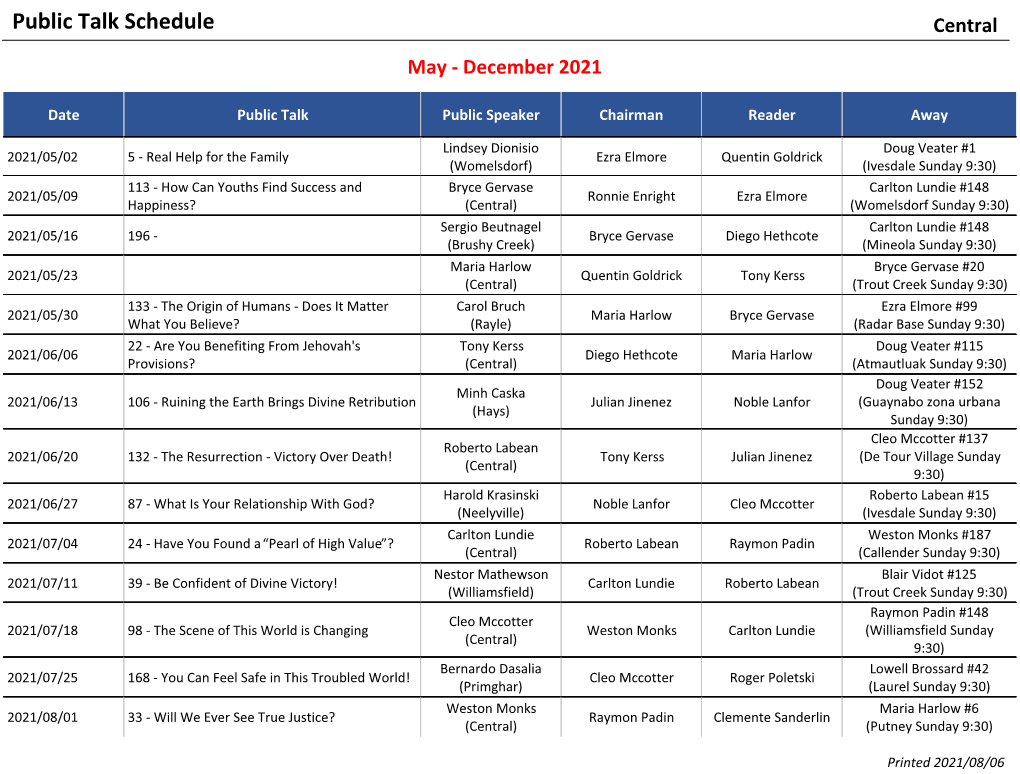 Local and Away Public Talk Assignments for all Public Speakers.
Select the Start and End Period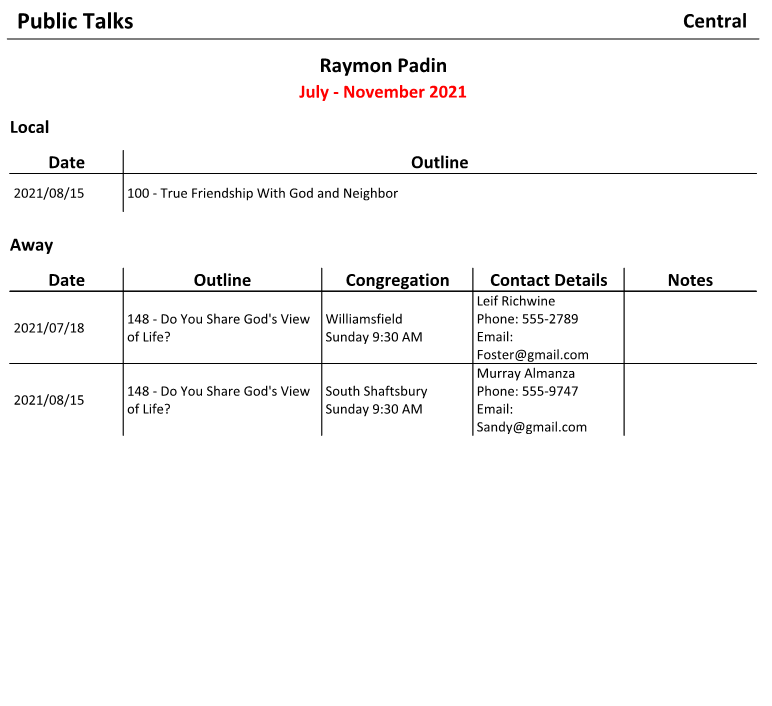 Shows a list of all future Away Public Talks, including who is giving the talk, when, in which congregation and the congregation's Public Talk Contact Details.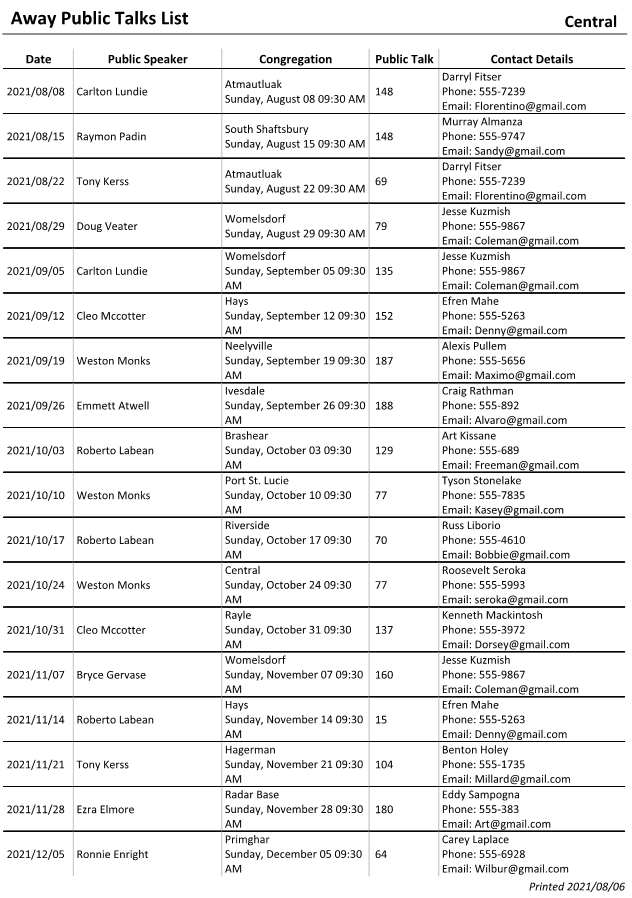 Away Public Speakers List
Shows all Public Speaker who are approved for Away Talks in the selected Congregation. Includes their contact details, and which Public Talk Outlines they can give.
Select which Congregation to display.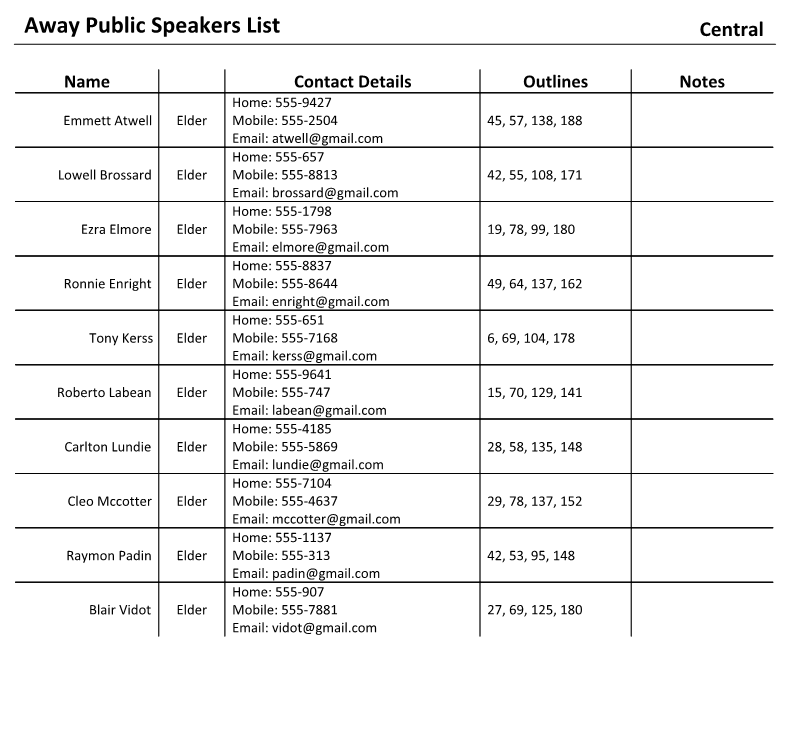 Displays all upcoming Public Speakers during the selected period, including which congregation they are from, which Public Talk they are giving, when they are coming, and their Contact Details.
Visiting Speakers Only displays only Visiting Speakers.
Select the Start and End Period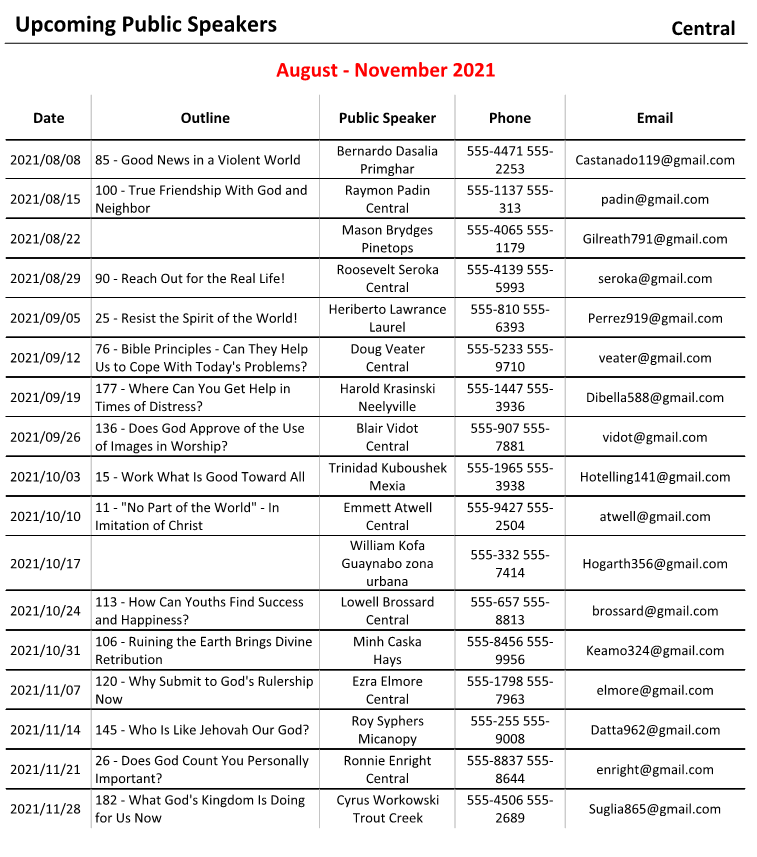 Visiting Speaker Invitations
Displays Visiting Speaker Invitations for all visiting Public Speakers in the selected period. The invitations include details about their upcoming Public Talk, and details about the Meeting day and time, Kingdom Hall address and Zoom Meeting details.
Include Zoom Details includes the congregation Zoom Meeting Details.
Select the Start and End Period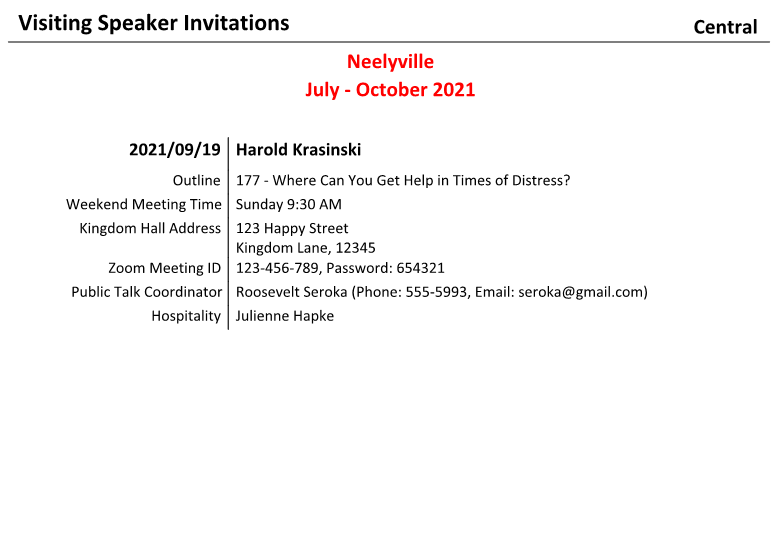 Generates the Public Talk History for the congregation for all Public Talks given in the last 5 years. This allows you to see which Public Talks have not been given recently and might need to be scheduled.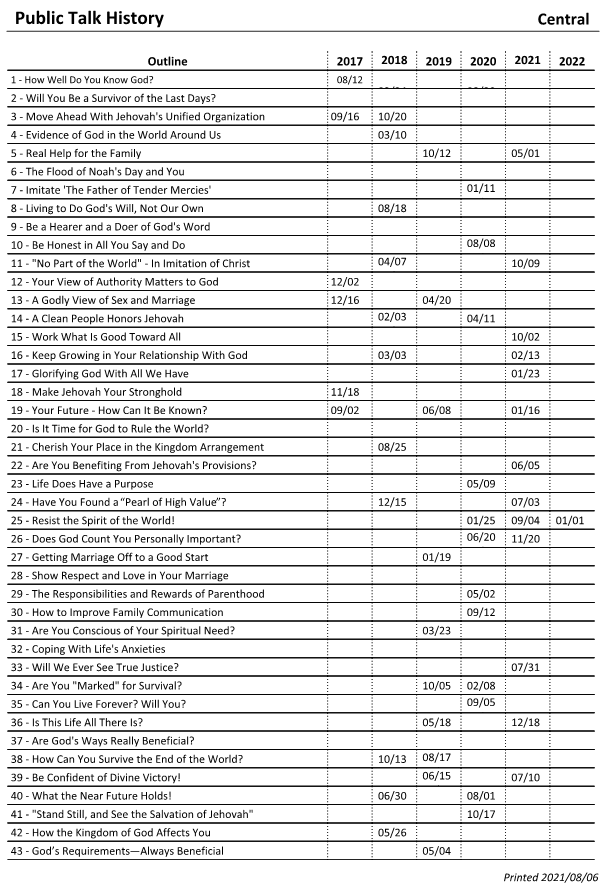 Public Speaker Exchange History
Displays the Public Talk Exchange History between your congregation and other selected congregations. This allows you to see how often and when you have exchanged Public Speakers with these congregations.
Future Dates Only shows only the Public Talks scheduled in the future.
Select the Congregation to compare with.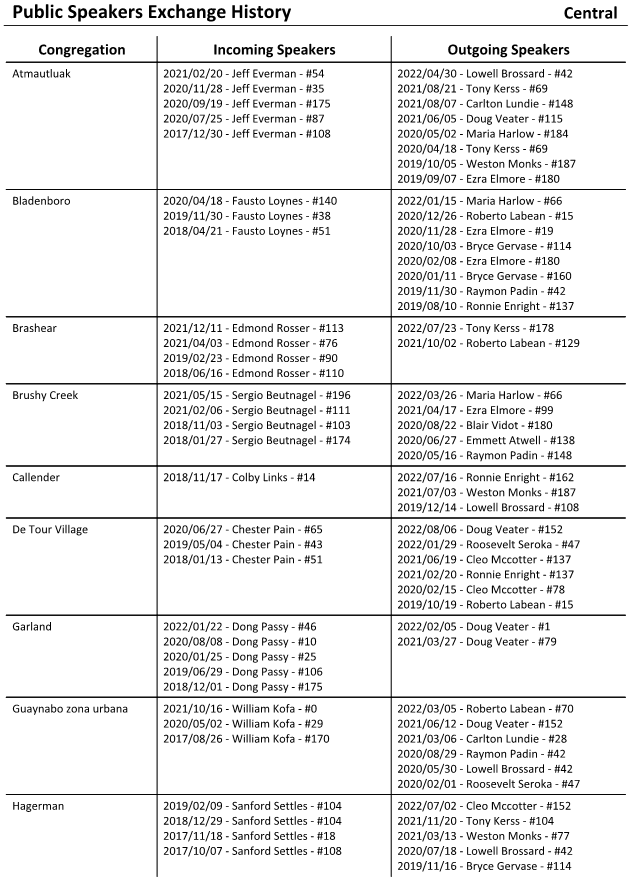 Weekend Assignments Member List
Display lists of which members can perform the various Weekend Assignments.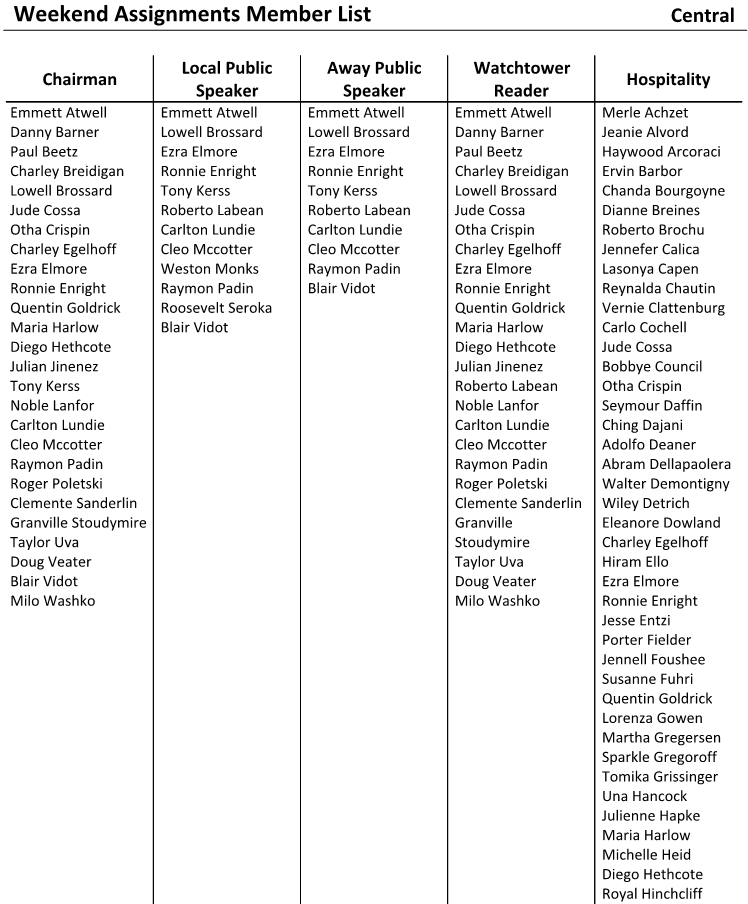 Common Questions and Problems
If a report, schedule or template does not exist on our Help pages, then it most likely does not exist in New World Scheduler. While New World Scheduler already contains over 130 different templates and reports, it is not possible to create reports or templates for everything and everyone.
Nevertheless, if you would like to suggest a new schedule, report or template for New World Scheduler:
Create a sample or screenshot of a sample
Click Help > Contact Us > Suggestion and carefully follow the directions provided.
Please carefully re-read the section Select the Report or Schedule on the Preview, Save, Print or Email Reports page.
The Periods are fixed and cannot be changed. They will automatically update as time passes.