The New World Scheduler Me view provides an overview or summary of New World Scheduler customized just for you!
This allows you to quickly see and access any My Tasks, My Congregation Responsibilities or Quick Steps, depending on what roles and responsibilities you have in the congregation.
The Me view will also provide you with convenient notifications indicating if any tasks or congregation responsibilities are overdue or nearly overdue.
To access Me, on the left sidebar click Me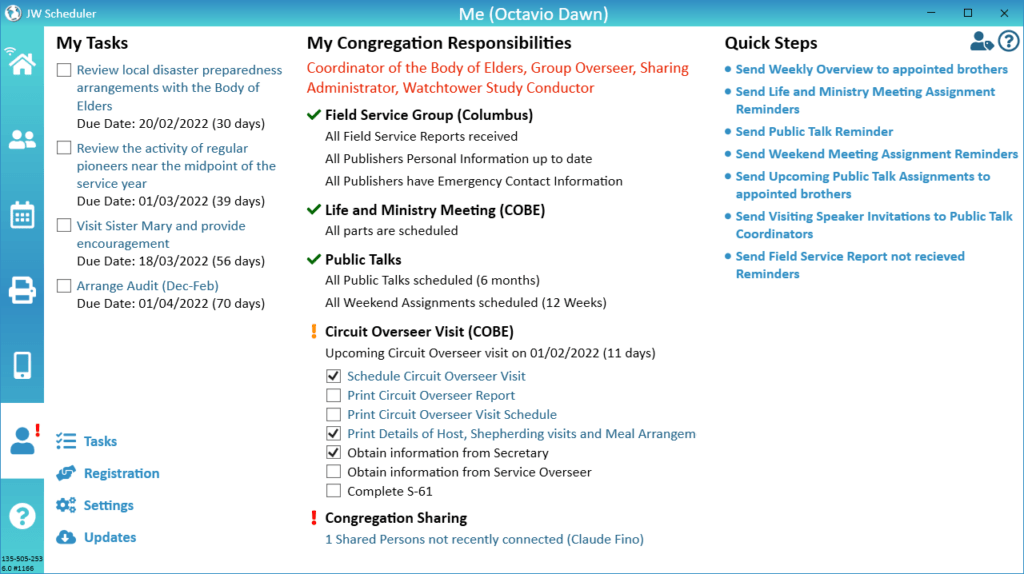 Before you can benefit from the Me view, you must first identify yourself and allocate your Congregation Responsibilities.
Click Me
Click Please Identify yourself button in the middle
Up the top-right corner, click the shortcut Congregation Responsibilities, or click Congregation > Congregation Responsibilities and setup your responsibilities.
To learn more about each Me view feature, including resolving any problems, please see below:
Me view Settings and Customizations
Common Questions and Problems