App Logs show all a complete log of all devices and data sent, received and imported from NW Publisher app to NW Scheduler.
See see the App Logs, click App > App Logs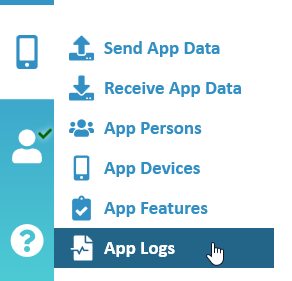 App Logs are available for the following categories:
App Data Sent
App Data Received
App Data Imported
App Devices
Always check the App Logs if you have any problems related to the NW Publisher app.
Occasionally, the Preview or App Logs may reveal that data is unable to decrypt. In this case, please ask the affected App Person to do the following:
Ensure they have updated to the latest version of NW Publisher app
Inside the app, tap Disconnect (top-right corner)
Connect to your congregation again

Note: They will need the Congregation ID, Congregation PIN, their First Name and their Person PIN.

In rare cases if the above doesn't work, a publisher might need to delete the app and re-install.